Coefficient of Drag for Many Vehicles
Return to Automotive Analyses Homepage
Return to Mayfield Motor Sports Homepage

Coefficient of Drag for Selected Vehicles
I started this effort with an understanding that it would be a simple matter to just gather the data and post it. Well, it grew until I was harvesting drag coefficients from several sources including members on the Land Speed List. I thank them for their input.

I did several things with the data. I calculated the frontal area of the cars from dimensions given in the sources and then developed a factor based on cars with that had the factory given frontal area as well as the "box dimensions" (ie, those height and width measurements). When I had the "corrected" frontal areas in square feet, then I calculated the frontal area in meters squared. Then I multiplied the given drag coefficients times the areas espectively to get Cd x A(eiter sq meters or sq feet). I tabulated these by vehicle for one set of data and by whether or not the vehicles were foreign or domestic in another. These sources were different and that is why there are these two sections. After that I put it all together in a spread sheet and mad 7 plots. The plots show horsepower required to push a vehicle with a calculated Cd x A at speeds from 100 mph to 450 mph. Each plot is for 50 mph range. On each plot is a "family of curves", the bottom one being a Cd x A factor of 4 and the top being 20. This should permit the "newbie" to select a car, get its Cd x A from the tables, determine how fast he wants to go, and then determine the approximate horsepower needed to get him that fast. He then can determine his own driveline efficiency and rolling friction and tire factors to get the flywheel hp needed. I think it is pretty straight forward, but if you can find areas where corrections aor improvements can be made, let me know. I based the horsepower numbers on methods previously developed in the HorsePower vs Speed analysis.
Let's work an example: Say we have a Sunbeam Tiger and we want to know what it takes to drive it to 180 miles per hour at sea level. From the tables, the Cd x A = 8.13. Then select the chart that shows speed of 150 - 200 mph and draw a line upward (mentally you fool - don't draw on the screen!).. Put your Cd x A value on that vertical line and interpolate between the given curves. Then draw a horizontal line over to the horsepower axis and get the rear wheel horspower needed. Simple huh... So, you can see that the horsepower needed to drive the Tiger to 180 mph is about 330 hp, but remember that this does not include any tire effects or rolling resistances. Then you need to factor your driveline efficiencies to get flywheel horsepower.

When you feel that you have mastered this example, then jump to the index of Cars and Curves page!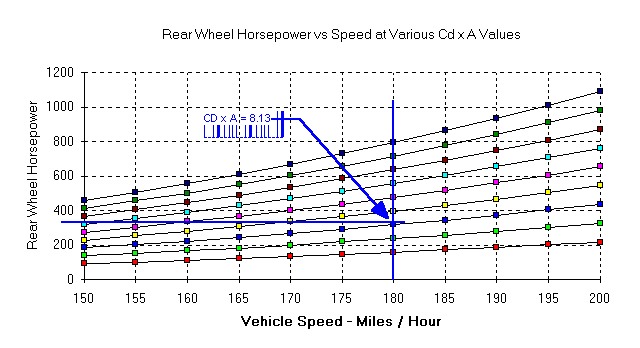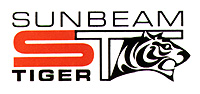 Copyright (C) 1998 - 2004, all dates inclusive, L.E. Mayfield - All Rights Reserved
Return to Automotive Analyses Homepage
Return to Mayfield Motor Sports Homepage